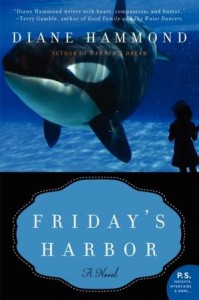 Friday's Harbor by Diane Hammond
Release date: 2013 / 352 pages
Synopsis (from Amazon):  Hannah the elephant is thriving in her new home, peacemaker Truman Levy is the new director of the Max L. Biedelman Zoo, and life in Bladenham, Washington, has finally settled down . . . or has it? From his eccentric aunt Ivy, Truman learns of the plight of a desperately sick, captive killer whale named Friday.  Reluctantly Truman agrees to give the orca a new home—and a new lease on life—at the zoo. But not everybody believes in his captivity. Soon the Max L. Biedelman Zoo is embroiled in a whale-size controversy and Friday's fate is up for grabs…
Review: To think I almost passed on this lovely novel — what a loss that would have been!  I enjoyed Hannah's Dream in 2008, but was a little disappointed in Seeing Stars, so I was a bit ambivalent about trying Hammond's latest when TLC Tours contacted me.  But Friday's Harbor is wonderful — and I choose that over-used adjective intentionally.  Hammond reminds us to truly wonder that animals — wild and domestic — are ever willing to trust humans and that the depth of the human-animal bond should always evoke wonder.
At times, fiction about animals (or even nonfiction) can anthropomorphize animals into who/what we want them to be — humans with fur or fins — rather than respect them in their own right as sentient beings.  Fortunately, Hammond has first-hand experience as the "voice" of killer whales — she was the full-time press secretary for Kieko (the star of Free Willy) and witnessed his rehabilitation — as well as the controversy that surrounds captive wild animals — on a daily basis.  She infuses Friday's story with this wisdom and the result is a lovely novel with authenticity and heart.
My only gentle criticism would be that the characters are either incredibly good or quite villainous (and very few of these).  But, on the other hand, I truly enjoyed a story with deeply altruistic, kind-hearted people with a cetacean hero at the center who thrived in his new home and loved his rescuer-captors.  The ending may be a bit convenient — but, again, a feel-good unambiguous happy conclusion was refreshing and thoroughly enjoyable.
I've already recommended it to a few people, and will be keeping my own copy for my guest room…
but be sure to check out the other stops on the tour:
Wednesday, October 16th: Tiffany's Bookshelf
Thursday, October 17th: Book Club Classics!
Monday, October 21st: Library of Clean Reads
Wednesday, October 23rd: Book-a-licious Mama
Tuesday, October 29th: Ageless Pages Reviews
Wednesday, October 30th: Peppermint PhD
Tuesday, November 5th: As I turn the pages
Friday, November 8th: Not in Jersey
Thursday, November 7th: The Book Wheel
Thursday, November 14th: Ace and Hoser Blook