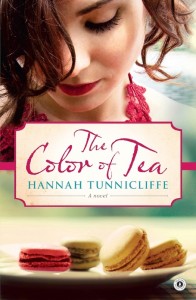 The Color of Tea
 by Hannah Tunnicliff
Release date: 2012 / 336 pages
Synopsis(from Amazon): Macau: the bulbous nose of China, a peninsula and two islands strung together like a three-bead necklace.  It was time to find a life for myself.  To make something out of nothing.  The end of hope and the beginning of it too.
After moving with her husband to the tiny, bustling island of Macau, Grace Miller finds herself a stranger in a foreign land–a lone redhead towering above the crowd on the busy Chinese streets.  As she is forced to confront the devastating news of her infertility, Grace's marriage is fraying and her dreams of a family have been shattered.  She resolves to do something bold, something her impetuous mother would do, and she turns to what she loves: baking and the pleasure of afternoon tea.
Review:  The title of The Color of Tea is what initially encouraged me to accept this novel for review, despite a busy stretch of summer.  The significance of the title is not clear until nearly the end, but is a lovely image of dreams realized and is worth waiting for.  The Color of Tea is a lovely novel about the power of perseverance, forgiveness and redemption.
The plot follows the path of Grace and her husband, who have travelled from Australia to Macau for business and are mourning their infertility.  As they struggle to recover from this disappointment, they begin to grow apart – each creating separate lives in an attempt to alleviate their pain.  Josh buries himself in work as Grace creates a French café that specializes in macarons: a sweet meringue-based confectionery often filled with grenache, buttercream or jam.  Each chapter begins with a significant word as well as a description of a type of macaron.  For example, chapter one opens with "L'Arrivee — Arrival: Sweet and Smoky Caramel with Salted Buttery Cream Filling.  As you can imagine just from this chapter title, the imagery of this novel is luminous at times and should not be read on an empty stomach. 🙂
I most enjoyed Grace's journey to create her own business and loved getting to know her regular customers and waitstaff.  I could predict the conclusion of the story fairly early on – but this is not a weakness of the novel, since this is what every reader would hope for.
I think any reader who enjoys hero(ine)'s journeys, character-driven fiction, relationship stories, travel fiction or satisfying narratives with happy endings would enjoy The Color of Tea.  My one recommenadion would have been to include recipes for the macarons, too.  Otherwise, this was a pleasant way to spend two airplane rides.
Interested in winning a copy? Leave me a comment below and I will choose a winner soon!
Check out the other stops on this tour, too:
Monday, July 9th:  Book Club Classics!