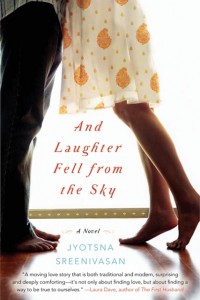 And Laughter Fell From the Sky
 by Jyotsna Sreenivasan
Release date: 2012 / 336 pages
Synopsis(from Amazon): Still living at home despite a good career and financial independence, beautiful and sophisticated Rasika has always been the dutiful daughter. With her twenty-sixth birthday fast approaching, she agrees to an arranged marriage, all while trying to hide from her family her occasional dalliances with other men. Abhay is everything an Indian-American son shouldn't be. Having spent his postcollege years living in a commune, he now hops from one dead-end job to another, brooding over what he really  wants to do with his life. Old family friends, Rasika and Abhay seem to have nothing in common, yet when the two reconnect by chance, sparks immediately fly.
Review:  This is the second debut novel I've read in the past month that was inspired by a classic I have not yet experienced first-hand: Edith Wharton's House of Mirth.  Both homages take place in Ohio, coincidentally, and each revision the 19xx's themes into fresh interpretations — wholly modern, and deeply interesting.  The first — Clarie McMillan's Gilded Age — focuses primarily on wealth and how socio-economic aspirations can prevent authentic fulfillment.
Laughter focuses on Indian-American families — first generation twenty-somethings trying to find their own voices and identity, while still respecting the traditions of their parents and ancestors.  Socioeconomic status is still relevant — but the added pressure of marrying within one's caste adds another layer of pressure to this young heroine's search for true love.  She is very comfortable with her own identity and career, yet desperately wants to please her parents, willing to agree to an arranged marriage. The hero has no problems with caste or marrying a woman who his parents may not embrace.  However, his struggle is to find his calling — and his journey involves a commune, an ashram, and well-meaning hippies — until he eventually learns to listen quietly to his own voice.
And Laughter Fell from the Sky is a sweet romance, but much more than simply this.  Sreenivasan creates fully realized, three-dimensional characters who expose the reader to the challenges of first generation Indian-Americans, as well as embrace the universal desires of all ages and cultures — fulfillment, happiness, lasting love.
I strongly recommend this as a pleasurable read that would appeal to many readers of all ages.  Interested in winning a copy?  Simply drop me a comment below and I will choose a winner soon!
Check out the other stops on this tour, too!
Tuesday, June 19th: Bookstack
Wednesday, June 20th: Book Club Classics!
Thursday, June 21st: The Feminist Texican [Reads]
Monday, June 25th: missris
Thursday, June 28th: Broken Teepee
Tuesday, July 2nd: Library of Clean Reads
Wednesday, July 3rd: Stiletto Storytime
Wednesday, July 4th: BookNAround
Thursday, July 5th: Peeking Between the Pages
Thursday, July 12th: Kahakai Kitchen
Friday, July 13th: Buried in Print
Wednesday, June 20th: Book Club Classics!
Thursday, June 21st: The Feminist Texican [Reads]
Monday, June 25th: missris
Thursday, June 28th: Broken Teepee
Tuesday, July 2nd: Library of Clean Reads
Wednesday, July 3rd: Stiletto Storytime
Wednesday, July 4th: BookNAround
Thursday, July 5th: Peeking Between the Pages
Thursday, July 12th: Kahakai Kitchen
Friday, July 13th: Buried in Print