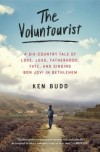 The Voluntourist
 by Ken Budd
Release date: 2012 / 416 pages
Synopsis(from Amazon): Ken Budd's The Voluntourist is a remarkable memoir about losing your father, accepting your fate, and finding your destiny by volunteering around the world for numerous worthy causes: Hurricane Katrina disaster relief in New Orleans, helping special needs children in China, studying climate change in Ecuador, lending a hand—and a heart—at a Palestinian refugee camp in the Middle East, to name but a few. Ken's emotional journey is as inspiring and affecting as those chronicled in Little Princes and Three Cups of Tea. At once a true story of powerful family bonds, of sacrifice, of self-discovery, The Voluntourist is an all-too-human, real-life hero whom you will not soon forget.
Review:   The older I get, the more drawn I am to memoirs, because I am fascinated by how others choose to spend their limited time on earth; while my life is well-suited to my personality, passions and happiness, I love vicariously peeking into how others find fulfillment.
The Voluntourist appealed to me on a number of levels — the travel aspect (I've been to every country he visits except Palestine — but as a true tourist, not to volunteer), the age of the memoirist (early 40's, same as me), and his decision to also not have children.  I've volunteered on a much smaller scale for most of my adult years — whether teaching ESL to a shy Taiwanese woman, volunteering with Bread for Life and Oxfam in college, a short stint with equine-assisted therapy or recording books for the blind in the basement.  But I've never volunteered on the scale of Ken Budd — and quite honestly do not believe I could.  I'm too much of an introverted home-body to imagine living in close quarters, shoulder-to-shoulder in sleeping bags on the floor for weeks at a time. So, Budd's adventures were truly a vicarious and fascinating experience.
The subtitle of The Voluntourist begins as "A six-country tale of love, loss, fatherhood, fate…" After the sudden death of his father at sixty-five, a death preceded by similarly early deaths of his grandparents, Budd is not only wracked with grief, but with the existential questions of whether or not his life is fulfilling.  His wife — who he fell in love with in sixth grade — had always been clear that she did not intend to become a mother.  However, Budd hoped she would change her mind –eventually realizing around age 40 that she would not.  The loss of his own father coupled with the realization that he himself would never experience fatherhood prompts his foray into volunteerism — sometimes alone, sometimes joined by his wife — that is inspiring, occasionally depressing, but always honest and interesting.
He begins in Katrina-ravaged New Orleans and quickly realizes that his writing and editing skills have prepared him for tasks like garbage clean-up, paint-scraping, and and other manual labor.  His next trip is to a school in Costa Rica where he and his wife quickly learn how to channel the energy of adolescents and hopefully teach them something as well.  He is next off to China to help children with special needs, then Ecuador's cloud forest to record the effects of global warming, moving next to Palestine to assist refuges and then finally to Kenya to help care for orphans.  Each trip poses unique challenges — both in the situation the country is facing as well as in the living conditions.  Budd seems most satisfied by the tours that involve children — and most disheartened by the political situation in Palestine — but he is truly affected by each trip in deeply profound ways.
Throughout, Budd reminisces about his father and adjusts to the reality that he will not follow in his father's footsteps by having his own children.  He also includes an incredible amount of detail regarding each destination — the setting, the fellow volunteers, the residents — and the "narrative" occasionally gets bogged down by detail.  However, a realistic rendering of this type of volunteer work is precisely what a dewy-eyed optimist should read before embarking on a voluntour of this nature.
Overall The Voluntourist is a fascinating yet realistic peek into this type of immersion volunteering and he includes helpful resources and tips at the end for any readers who are inspired to embark on their own voluntours.
Interested in winning a copy?  Simply leave me a comment below and I will choose a winner soon!
Check out the other stops on the tour:
Tuesday, June 5th: BookNAround
Wednesday, June 6th: Book Club Classics!
Wednesday, June 6th: The Written World
Thursday, June 7th: Travel Spot