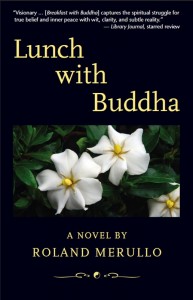 Lunch with Buddha
by Roland Merullo
Release date: 2012 / 392 pages
Synopsis(from Amazon): …Heartbreaking in places, hilarious in others, Lunch with Buddha takes its readers on a quintessentially American road trip across the Northwest.  That outer journey, complete with good and bad meals, various outdoor adventures, and an amusing cast of quirky characters, mirrors a more interior journey–a quest for meaning in the hectic routine of modern life…
Review:   I love when a novel comes into my life at just the right time, as Lunch with Buddha has.  A few weeks ago I joined Oprah and Deepak Chopra on their 21-day meditation challenge and experienced so much of what Otto describes: "Monkey mind," skepticism, peace and ultimately a shift in consciousness that I cannot describe or understand, but am deeply grateful for.
In fact, as I read the first few chapters of Lunch with Buddha, I had to remind myself it was not a memoir.  I had read Breakfast with Buddha recently, so I knew Otto Ringling and his brother-in-law monk Volya Rinpoche were fictional, but Merullo manages to infuse each character, meal and side-trip with authenticity and veracity, especially when Otto is at his most garrulousness.  I enjoyed Breakfast with Buddha, but on a more entertaining level — chuckling at Volya's quirks, bemused at Otto's "New York" cynicism – but appreciated this sequel on a much more significant level.
Volya is still quirky, and Otto's obsession with good food still persists, but his travels through the West resonated — I was not surprised to read at the end that Merullo and his family had taken same trip as Otto and Volya as preparation for this novel.  Instead of idyllic postcard proclamations about the sweeping grandeur of Montana, he describes the less picturesque aspects of hard-bitten towns with fear-driven belief systems and limiting world views.  While he represents the natural beauty of much of the West, he also includes the not-so-pretty billboards and prejudices that color that boundless expanse of land.  And, just as important, Otto recognizes the judgments he makes for what they are, coming from his own limited worldview.
But at it's heart, Lunch with Buddha is about possibility and hope, exquisite characterization and vivid prose, especially when describing grief:
"Beneath his not-quite-yet-a-man-but-old-enough-to-curse-in-front-of-his-father facade, Anthony's sorrow ran like the moles that savaged our garden, night creatures who traveled in deep tunnels, though you might catch a glimpse of them at noon. During the course of his mother's illness he had never once let anyone see him cry."

"Sometimes, sitting beside the bed holding her wrist very lightly or dabbing her lips with a damlp washcloth flavored with mint, it seemed to me that my wife had turned into a dark night sky, speckled with stars, cold and marvelous, unreachable, shining down on me but with most of her already in some other world."
I do recommend this to book clubs — so much to discuss!  And there is no need to first read Breakfast with Buddha.  I believe this second novel will lend itself to discussion even more easily and needs no preamble.  Interested in winning a copy?  Drop me a comment below!
And be sure to check out the other stops on the tour, too:
Tuesday, November 13th:  I Am A Reader, Not A Writer – Author Q&A
Friday, November 16th:  Mom in Love with Fiction
Monday, November 19th:  Dwell in Possibility
Tuesday, November 20th:  Lavish Bookshelf
Wednesday, November 21st:  Patricia's Wisdom
Monday, November 26th:  Minding Spot
Tuesday, November 27th:  Write, Meg!
Wednesday, November 28th:  Bibliophiliac
Thursday, November 29th:  Suko's Notebook
Friday, November 30th:  She Treads Softly
Monday, December 3rd:  Erin Reads
Tuesday, December 4th:  Fiction Addict
Wednesday, December 5th:  Stiletto Storytime
Thursday, December 6th:  Book Club Classics!
Friday, December 7th:  Bibliosue