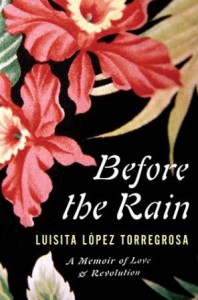 Before the Rain: A Memoir of Love and Revolution
Release date: 2012 / 340 pages
Synopsis(from Amazon): Before the Rain tells the story of love unexpected, its fragile bounds and subtle perils. As a newspaper editor in the '80s, Luisita Torregrosa lived her career. Enter Elizabeth, a striking, reserved, and elusive writer with whom Torregrosa falls deeply in love. Their story—irresistible romance, overlapping ambitions, and fragile union—unfolds as the narrative shifts to the Philippines and the fall of Ferdinand Marcos. There, on that beautiful, troubled island, the couple creates a world of their own, while covering political chaos and bloody upheavals. What was effortless abroad becomes less idyllic when they return to the United States, and their ending becomes as surprising and revealing as their beginning.
Review:  Before the Rain is challenging to review since it is a memoir tracing the arc of a relationship in an attempt to make sense of and pay homage to the author's great defining love — "reviewing" this memoir feels as if I am reviewing their relationship.  However, Luisita Lopez Torresgrosa also has a fascinating, exciting life as an editor, a correspondent, and a writer. Many of her adventures are entwined with Elizabeth, and Torregrosa's clear-eyed honesty (as far as the reader can tell — Elizabeth's story may be strikingly different, although Torregrosa does not portray Elizabeth in any light other than that of adoration and love) is heart-wrenching at times, but does elevate the memoir beyond the inner workings of one couple.
In addition, Torregrosa's writing is lovely — reminiscent of Didion in her reportorial tone, but resplendent with imagery; she brings to life Washington D.C., Manila, and New York City in striking relief — neither over-glorifying or denigrating any place.  She understands the power a place has over its inhabitants — the dank, difficult aspects as well as the breath-taking beauty and majesty:
The sky here, and all the spring skies of this place of robins and cardinals, her kind of place, this sky over me has no traces today of clouds. It is perfect, cerulean, azure, azul, all the words we use to describe a sky that is simply itself, pristine, newborn.

When I look back to that August in Manila, I must begin with the rain. It came in gulps, torrents, slashing across the world, drowning it. The sky, a crisscross of flashes, lightning snapping, became a vast black sea, exploding.

New York had always been a seduction. It would always be the city that stole my heart when I fourteen, when the city seemed to rise to meet me as I peered down on it from my window seat on a Pan Am clipper. The building shooting into the sky seemed great monuments to me, defying gravity, beyond imagination.
I do recommend Before the Rain, but found it quite heartbreaking.  I'm not sure it would spark book club discussion, but is a wonderful example of how great writing can create place and time and hopefully heal inescapable wounds.
Interested in winning a free copy?  Drop me a comment below and I will choose a lucky winner soon!
Other stops on the tour:
Wednesday, August 22nd: Unabridged Chick
Monday, September 3rd: Dreaming in Books
Thursday, September 6th: A Reader of Fictions
Monday, September 10th: Between the Covers
Tuesday, September 18th: Book Club Classics!
Monday, September 24th: Sophisticated Dorkiness
Tuesday, September 25th: Bonjour, Cass!
Wednesday, September 26th: Silver & Grace
Thursday, September 27th: Stuff as Dreams are Made On
TBD: The Written World
TBD: Raging Bibliomania