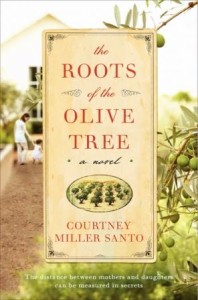 The Roots of the Olive Tree: A Novel
Release date: 2012 / 320 pages
Synopsis(from Amazon): Meet the Keller family, five generations of firstborn women—an unbroken line of daughters—living together in the same house on a secluded olive grove in the Sacramento Valley of Northern California.
Anna, the family matriarch, is 112 and determined to become the oldest person in the world. An indomitable force, strong in mind and firm in body, she rules Hill House, the family home she shares with her daughter Bets, granddaughter Callie, great-granddaughter Deb, and great-great-granddaughter Erin. Though they lead ordinary lives, there is an element of the extraordinary to these women: the eldest two are defying longevity norms. Their unusual lifespans have caught the attention of a geneticist who believes they hold the key to breakthroughs that will revolutionize the aging process for everyone.
Review:   It has been a long time – too long – since I have read a novel considered to be "women's fiction."  Honestly, the genre designation is a bit annoying – and limiting.  John Sanford or W.E.B. DuBois is not considered "men's fiction" – and why can't men enjoy character-driven fiction in which no one dies, no political intrigue is involved, and the characters are actually believable?  Many men do, actually…  But I digress…
I'm just so glad that I agreed to accept The Roots of the Olive Tree due to an interest in olive oil and in multi-generational fiction.  Santo has created a complex, multi-layered narrative with characters who are interesting and compelling in their own right.  A novel could be written about each woman – I would read each novel! – and I never minded when the narrative shifted since I knew I was in good hands after reading Santos' first few chapters.
Happily, I believe the ideas of this novel will remain with me as well.  Santos explores family secrets, legacies, and longevity and each of these would spark wonderful book club discussion, with or without the aid of discussion questions.  The "fountain of youth" has always fascinated us – understandably – and each generation of women approach the concept from a fresh and interesting perspective.
So, I strongly recommend this example of "women's fiction" to book clubs and all readers – of both genders! 🙂
Interested in winning a free copy?  Drop me a comment below and I will choose a lucky winner soon!
Other stops on the tour:
Tuesday, August 21st: No More Grumpy Bookseller
Wednesday, August 22nd: A Patchwork of Books
Tuesday, August 29th: A Book Geek
Thursday, August 30th: Book Hooked Blog
Monday, September 3rd: Peeking Between the Pages
Tuesday, September 4th: Iwriteinbooks' blog
Thursday, September 6th: StephTheBookworm
Friday, September 7th: Kahakai Kitchen
Tuesday, September 11th: Book Club Classics!
Wednesday, September 12th: girlichef
Thursday, September 13th: JulzReads
Wednesday, September 19th: Book Addict Katie
Thursday, September 20th: Chaos is a Friend of Mine
Friday, September 21st: Anglers Rest