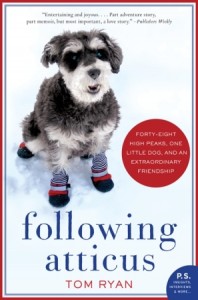 Following Atticus: Forty-eight High Peaks, One Little Dog, and an Extraordinary Friendship (P.S.)
Release date: 2012 / 304 pages
Synopsis(from Amazon): After a close friend died of cancer, middle-aged, overweight, acrophobic newspaperman Tom Ryan decided to pay tribute to her in a most unorthodox manner. Ryan and his friend, miniature schnauzer Atticus M. Finch, would attempt to climb all forty-eight of New Hampshire's four thousand- foot peaks twice in one winter while raising money for charity. It was an adventure of a lifetime, leading them across hundreds of miles and deep into an enchanting but dangerous winter wonderland. At the heart of the amazing journey was the extraordinary relationship they shared, one that blurred the line between man and dog.
Review:   When Following Atticus arrived from TLC, my husband asked me why I had accepted it to read and review.  I replied, "Did you SEE the cover?!"  And he answered, resignedly, "Yes — that's why I'm asking…  You know how books about dogs end… and how this affects you."  Well, he was right that I was affected by reading about Atticus.  And I'm afraid I will not be giving away my copy — this is a book that belongs on the bedside table of my guest room since it will affect everyone who reads it, regardless of gender, age, or creed — regardless of whether the reader is a dog lover, even!  In fact, at book club I recommended it to everyone — and at that point I was only halfway finished.  (And I've learned that lesson well — not to recommend a book with promise until I had turned the last page) but since I live in the mountains and my book club is filled with dog loving mountain folk, I knew I was safe in Atticus's paws 🙂
Following Atticus will appeal to dog lovers, but is truly more of a redemption story of the author: Tom Ryan.  In his memoir, Ryan comes to terms with a difficult childhood, a complex relationship with his father, his uncertainty about what to do with his life, and other life-changing issues.  Although Atticus is a 20 pound miniature schnauzer, he reveals a passion for mountain climbing that gets his buddy (Tom) out from behind his computer, into the White Mountains of New Hampshire, and through some of the most difficult "life work" necessary.
Ryan is a newspaperman by trade and a lovely writer — able to bring both Atticus and the mountains into sharp relief for the reader.  I felt as if I, too, had climbed all the four thousand foot peaks with Atticus and loved every step.  As my husband feared, the pup does face trials and tribulations at times, but this is a hero's journey that ends happily.
So, I strongly recommend Following Atticus!  Even those ambivalent about dogs will find something to love in this inspiring adventure tale.
Check out the other tour stops!
Wednesday, August 8th: Peppermint PhD
Thursday, August 9th: Tiffany's Bookshelf
Tuesday, August 14th: BookNAround
Thursday, August 16th: The Book Garden
Monday, August 20th: Wordsmithonia
Wednesday, August 22nd: Miss Remmers' Review
Thursday, August 23rd: Book Dilettante
Thursday, August 23rd: A Musing Reviews
Monday, August 27th: 4 The Love of Animals
Tuesday, August 28th: Champion of My Heart
Wednesday, August 29th: My Bookshelf
Thursday, August 30th: Something Wagging This Way Comes
Thursday, August 30th: StephTheBookworm
Monday, September 3rd: No Dog About It
Tuesday, September 4th: Book Club Classics
Wednesday, September 5th: Crazy For Books