So L.A.
 by Bridget Hoida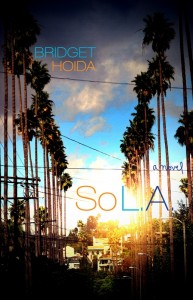 Release date: 2012 / 384 pages
Synopsis(from Amazon):Beautiful Magdalena de la Cruz breezed through Berkeley and built an empire selling designer water. She'd never felt awkward or unattractive… until she moved to Los Angeles. In L.A. where everything smells like acetone and Errol Flynn Magdalena attempts to reinvent herself as a geographically appropriate bombshell with rhinestones, silicone and gin as she seeks an escape from her unraveling marriage and the traumatic death of her younger brother, Junah. Magdalena's Los Angeles is glitzy and glamorous but also a landscape of the absurd. Her languidly lyrical voice provides a travel guide for a city of make-believe, where even Hollywood insiders feel left out.
Review:   I agreed to read and review Hoida's So L.A. for TLC's book tour because it sounded light and summery — I have spent the past few months reading mostly non-fiction and cookbooks.  I knew it was Hoida's debut novel, so I wasn't sure what to expect.  I've only been to L.A. once — briefly — but, as all Bravo viewers must feel, I have many sun-drenched images of this iconic city floating about in my consciousness.
So L.A. was not particularly "light and summery," but — more importantly — was original and creative.  The protagonist, Magdalena de la Cruz, is forced to undertake a classic heroine's journey after the death of her brother (not a spoiler — revealed almost immediately as well as on the book jacket) and decides to reinvent herself by moving from her family's rural vineyards in Lodi, California to L.A., a city founded on reinvention. She discovers that sun-kissed L.A. is perfect for reincarnation, but not necessarily for renewal.  Much of the novel focuses on her "descent into darkness," but the reader can't help but root for Magdalena, even at her most despicable.
The author is clearly familiar with the glitz and glam of L.A. and charmingly begins and ends the novel as if the novel were a script for a movie — the ending was probably my favorite.  As a former mass media teacher, I appreciated the film-inspired chapter titles and the over-the-top plot twists and resolutions.  So, while not traditional summer fare, So L.A. ends up much more satisfying and substantial — and would make a great movie, incidentally!  😉
Interested in winning a free copy?  Simply leave me a comment below!
Thursday, July 5th:  CBS Los Angeles – LA's Summer Reading Guide
Monday, August 13th:  The 3R's Blog
Wednesday, August 15th:  Peppermint Ph.D.
Thursday, August 16th:  Hopelessly Devoted Bibliophile
Monday, August 20th:  Kritter's Ramblings
Wednesday, August 22nd:  Sweet Southern Home
Thursday, August 23rd:  Book Chatter
Monday, August 27th:  Reviews by Molly
Tuesday, August 28th:  Travel Spot 
Wednesday, August 29th:  Book Club Classics!
Thursday, August 30th:  A Chick Who Reads
Tuesday, September 4th:  A Bookish Affair
Thursday, September 6th: Bookish Whimsy
Friday, September 7th:  In the Next Room
Monday, September 10th:  Colloquium
Tuesday, September 11th:  Oh! Paper Pages
Wednesday, September 12th:  Conceptual Reception
Thursday, September 13th: Seaside Book Nook