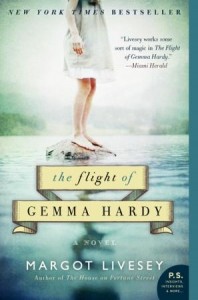 The Flight of Gemma Hardy
 by Margot Livesey
Release date: 2012 / 480 pages
Synopsis(from Amazon): Taken from her native Iceland to Scotland in the early 1950s when her widower father drowns at sea, young Gemma Hardy comes to live with her kindly uncle and his family. But his death leaves Gemma under the care of her resentful aunt, and she suddenly finds herself an unwelcome guest. Surviving oppressive years at a strict private school, Gemma ultimately finds a job as an au pair to the eight-year-old niece of Mr. Sinclair on the Orkney Islands—and here, at the mysterious and remote Blackbird Hall, Gemma's greatest trial begins…
Review:   When I heard a "revisioning" of Jane Eyre was out, I was trepidacious.  I first read Bronte's classic for pleasure as an adolescent, then on assignment (multiple times) as an undergraduate and for my Master's program, and eventually taught it to Advanced Placement Literature students.  I can safely state that I am more familiar with Jane Eyre than with any other novel — and I somehow loved it a little bit more each time I read or taught it.  So, I was afraid any reinterpretation would be woefully deficient and I would be forced to charge any contemporary author who attempted this with hubris.
However, I loved Gemma Hardy!  This novel is not only a testament to Bronte's original genius — exemplifying that her original narrative transcends time, culture, country and taste — but Livesey has also created a wonderfully original heroine in Gemma who is able to stand on her own two plucky feet.  Livesey was wise to choose the time period of the 1950's and add Iceland to the heroine's search for identity — these two changes are different enough to allow the reader to enjoy the story for its own merits and not merely compare the two tales.
But there are enough parallels to allow happy reminiscing of Jane Eyre, too — and Livesey keeps the qualities we love about Jane alive in Gemma — her intelligence and spirit.  So I happily, surprisingly, wholeheartedly recommend this novel.  It would be a joy for a book club to discuss in tandem with Jane Eyre, but would stand alone as a great read on its own merits, too.
Interested in winning a free copy?  Leave me a comment below and I'll choose a winner soon!
Here are the other stops on the tour, too:
Tuesday, June 26th: The Lost Entwife
Wednesday, June 27th: Peeking Between the Pages
Thursday, June 28th: The Feminist Texican [Reads]
Friday, June 29th: Book Reviews, Fiction Reflections, ' More!
Monday, July 2nd: Twisting the Lens
Tuesday, July 3rd: Walking With Nora
Wednesday, July 4th: Bibliosue
Thursday, July 5th: Bibliophiliac
Monday, July 9th: Life in the Thumb
Tuesday, July 10th: Book Club Classics!
Wednesday, July 11th: Laura's Reviews
Thursday, July 12th: Broken Teepee
Tuesday, July 17th: The 3 R's: Reading, 'Riting, and Randomness
Wednesday, July 18th: My Bookshelf
Thursday, July 19th: Lit and Life