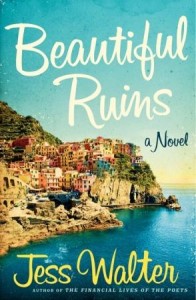 Beautiful Ruins
 by Jess Walters
Release date: 2012 / 352 pages
Synopsis(from Amazon):The story begins in 1962. On a rocky patch of the sun-drenched Italian coastline, a young innkeeper, chest-deep in daydreams, looks out over the incandescent waters of the Ligurian Sea and spies an apparition: a tall, thin woman, a vision in white, approaching him on a boat. She is an actress, he soon learns, an American starlet, and she is dying. And the story begins again today, half a world away, when an elderly Italian man shows up on a movie studio's back lot—searching for the mysterious woman he last saw at his hotel decades earlier…
Review:  When TLC contacted me about reading Jess Walter's latest novel, I remembered describing his last novel (The Financial Lives of the Poets) as similar to "…the first time on Mister Toad's Wild Ride — surprising, original, careening out-of-control, yet knowing no real harm will come to the reader or to the very likeable characters" and immediately accepted.
While my passion for poetry still makes his previous novel my favorite, I did enjoy Beautiful Ruins — Walter's wit and originality is again on full display, this time integrating Hollywood (old and new), a sleepy Italian fishing village, and a message of redemption.  Even the most despicable characters are somehow likeable and believable — even a reinvented Richard Burton.
The narrative initially transverses between the 1960's to the present, but as the novel progresses the two stories come together, gathering momentum and picking up additional characters, screenplays, memoirs and other interesting side trips along the way.  However, Walter's narrative focus is clear and while Ruins may not have great depth, it is another fun joy ride that is a pleasure to read, largely due to Walter's marvelous way of describing common everyday occurrences that allow the reader to view them anew:
Claire wakes jonesing for data; she fumbles on the crowded bedside table for her BlackBerry, takes a digital hit. Fourteen e-mails, six tweets, five friend requests, three texts, and her calendar — life in a palm.
While I'm not sure book clubs would have enough to discuss, as an entertaining tale Beautiful Ruins has much to recommend it. If you are interested in winning a copy, drop me a comment below!
Check out the other tour stops:
Tuesday, June 12th: A Musing Reviews
Wednesday, June 13th: Broken Teepee
Thursday, June 14th: The Scarlet Letter
Friday, June 15th: A Bookish Affair
Monday, June 18th: Book Him Danno!
Tuesday, June 19th: The Book Garden
Wednesday, June 20th: Write Meg!
Thursday, June 21st: "That's Swell!"
Friday, June 22nd: Drey's Library
Monday, June 25th: Just Joanna
Tuesday, June 26th: A Cozy Reader's Corner
Wednesday, June 27th: Colloquium
Thursday, June 28th: Under My Apple Tree
Monday, July 2nd: Wandering Thoughts of a Scientific Housewife
Tuesday, July 3rd: The House of the Seven Tails
Wednesday, July 4th: Book Club Classics!
Thursday, July 5th: Lit and Life
Monday, July 9th: Luxury Reading
Tuesday, July 10th: Bibliophiliac