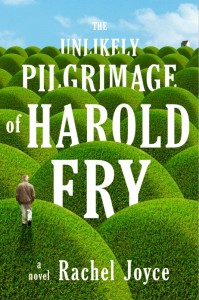 The Unlikely Pilgrimage of Harold Fry
 by Rachel Joyce
Release date: 2012 / 336 pages
Synopsis(from Amazon):Meet Harold Fry, recently retired. He lives in a small English village with his wife, Maureen, who seems irritated by almost everything he does, even down to how he butters his toast. Little differentiates one day from the next. Then one morning the mail arrives, and within the stack of quotidian minutiae is a letter addressed to Harold in a shaky scrawl from a woman he hasn't seen or heard from in twenty years. Queenie Hennessy is in hospice and is writing to say goodbye… Still in his yachting shoes and light coat, Harold embarks on his urgent quest across the countryside. Along the way he meets one fascinating character after another, each of whom unlocks his long-dormant spirit and sense of promise…
Review:  After I finished journeying with Harold Fry, I understood why Helen Simonson (the author of Major Pettigrew's Last Stand) began her own review with the adjective, "Marvelous!"  I thoroughly enjoyed this novel and although it is different from Pettigrew most respects, there is a fundamental, authentic sense of satisfaction at the turning of the last page that I felt with both novels.
In his mid-sixties, on his way to the post box to mail a letter, Harold Fry decides quite uncharacteristically and unexpectedly to instead hand deliver the letter — by walking across England (from Kingsbridge, South Hams to Berwick-upon-Tweed).  Shod in boating shoes with only his wallet, Harold begins an odyssey that allows him to come to peace with his unfortunate childhood and how this shaped his own identity as a father.  He thinks back through mistakes he himself made as a parent and as a husband — and meets a charming cast of fellow travellers on his way.
But what makes Harold Fry so satisfying is Joyce's direct, yet resonant storytelling.  Within a few paragraphs the reader is completely sympathetic to both Harold and his wife Maureen, even though they are each a bit irritating (at least initially).  Although Harold's journey seems physically unlikely, Joyce includes enough realistic obstacles and challenges to make this aspect of the novel believable; however, the veracity of the journey is quite beside the point.  The true gift of this novel is its spirit of redemption and perseverance, even when least likely.
I thoroughly recommend Harold Fry and believe most book clubs would find this an enjoyable read. If you are interested in winning a copy, drop me a comment below!
Check out the other tour stops:
Tuesday, July 3rd:  Alison's Bookmarks
Thursday, July 5th:  Literate Housewife
Friday, July 6th:  Amused by Books
Monday, July 9th:  A Bookworm's World
Tuesday, July 10th:  My Book Retreat
Wednesday, July 11th:  Under My Apple Tree
Monday, July 16th:  BookNAround
Tuesday, July 17th:  Life in the Thumb
Wednesday, July 18th:  Luxury Reading
Thursday, July 19th:  Book Chatter
Monday, July 23rd:  Sarah Reads Too Much
Tuesday, July 24th:  Write Meg!
Wednesday, July 25th:  Coffee and a Book Chick
Thursday, July 26th:  It's a Crazy, Beautiful Life
Monday, July 30th:  Patricia's Wisdom
Tuesday, July 31st:  Joyfully Retired
Wednesday, August 1st:  Ted Lehmann's Bluegrass, Books, and Brainstorms
Thursday, August 2nd:  A Musing Reviews
Monday, August 6th:  Bibliophiliac
Wednesday, August 8th:  Boarding in my Forties
Thursday, August 9th:  Bibliosue
Friday, August 10th:  Chaotic Compendiums
Monday, August 13th:  The Picky Girl
Tuesday, August 14th:  Col Reads
Wednesday, August 15th:  Caribousmom
Friday, August 17th:  Jenn's Bookshelves
Monday, August 20th:  The House of the Seven Tails
Tuesday, August 21st:  She Treads Softly
Wednesday, August 22nd:  Knowing the Difference
Thursday, August 23rd:  Reading on a Rainy Day