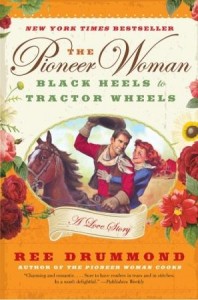 The Pioneer Woman: Black Heels to Tractor Wheels–a Love Story
by Ree Drummond
Release date: 2012 / 342 pages
Synopsis(from Amazon):  That's when I saw him—the cowboy—across the smoky room… I'll never forget that night. It was like a romance novel, an old Broadway musical, and a John Wayne Western rolled into one. Out for a quick drink with friends, I wasn't looking to meet anyone, let alone a tall, rugged cowboy who lived on a cattle ranch miles away from my cultured, corporate hometown. But before I knew it, I'd been struck with a lightning bolt . . . and I was completely powerless to stop it. This isn't just my love story; it's a universal tale of passion, romance, and all-encompassing love that sweeps us off our feet. It's the story of a cowboy. And Wranglers. And chaps. And the girl who fell in love with them.
Review:   For anyone who has already discovered Ree Drummond's blog — The Pioneer Woman — I am so excited to share this memoir which I somehow missed last year when it was first published.  And for those of you are just now learning about The Pioneer Woman, get ready to while away many, many hours in the near future.
When I first started this website, I searched for award-winning blogs and quickly discovered Ree Drummond's blog about her adventures as a city slicker who is swept off her high-heeled boots by a cowboy (who she calls Marlboro Man) and within a year she finds herself living in the middle of a working cattle ranch in the middle of Oklahoma, pregnant, absolutely befuddled — and completely in love.
When I first found The Pioneer Woman, I'll admit I spent hours — and hours — reading about Ree's adventures and drooling over her photographs of her world.  Drummond now has four children, a best-selling cookbook, and thousands of adoring fans who tune in regularly to read about her latest adventures in child-rearing, calf-raising, and cooking, in addition to a show on the Food Network.  Drummond has a rare gift and a singular voice — her writing is hilarious, engaging, intimate, honest, authentic, wildly entertaining, and addictive.  She includes just the right amount of detail to bring alive her world and has a way with allusions that make her readers feel like long-lost friends with a shared past:
"Not having had any real experiences with a rural lifestyle, I looked at that homestead of ours as a little piece of paradise on earth — a place where Marlboro Man and I would live out our days in romantic, bucolic bliss. Where I'd milk cows every morning in my tiered prairie skirt, like the one I'd bought at The Limited back in 1983. Where the birds would chirp happily and visit me on the kitchen windowsill as I washed dishes. Where the sun would always rise in the east and set in the west. Where nothing disappointing or sad or scary or tragic would ever, ever happen. At least I was right about the sun." (199)
And as a bonus — her photography is stunning.  Who knew a cattle ranch in Oklahoma could be so beautiful?  Well, Ree did — and now countless others do, too.
When I agreed to review Drummond's memoir, I assumed I would have already have read it on her blog.  I was happily surprised to find she added details to the previously released chapters and continued the story through to the first year of her marriage — which includes the birth of her first daughter.   I fondly remembered the first time Ree met Marlboro Man's brother and promptly got her high-heeled boot stuck in the grilled step of his semi cab and launched herself into the mud.  I remembered the painful timing of her parents' divorce coinciding with her own wedding.  But I had no idea their honeymoon in Australia involved an inner-ear disturbance and mystery meat that resulted in…  well, you can imagine.  I loved living through Ree's first pregnancy and subsequent post-partum depression, knowing full well that Ree would soon love her new life more than she could ever imagine at that time.
So, if you are already a fan of The Pioneer Woman, you will love this memoir.  And if I am fortunate enough to have introduced you to Ree…  You're welcome! 🙂
Sorry, no give away this time…  I enjoyed re-reading Ree's adventures so much a second time, I have a feeling a third might be in my future…
Check out the other stops on Ree's tour:
Friday, February 17th: Chick Lit Reviews and News
Monday, February 20th: Hospitable Pursuits
Tuesday, February 21st: Book Club Classics!
Thursday, February 23rd: Joyfully Retired
Monday, February 27th: Laura's Reviews
Tuesday, February 28th: Raging Bibliomania
Wednesday, February 29th: Jenn's Bookshelves
Thursday, March 1st: Books Like Breathing
Tuesday, March 6th: BookNAround
Wednesday, March 7th: Amusing Reviews
Thursday, March 8th: girlichef
Monday, March 12th: Tina's Book Reviews