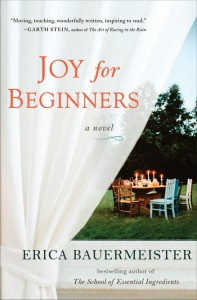 by Erica Bauermeister Joy For Beginners
Release date: 2010 / 269 pages
Synopsis (from the back cover): At an intimate, festive dinner party in Seattle, six women gather to celebrate their friend Kate's recovery from cancer. Wineglass in hand, Kate strikes a bargain with them: to celebrate her new lease on life, she'll do the one thing that's always terrified her: white-river rafting. But if she goes, all of them will also do something they always swore they'd never do — and Kate is going to choose their adventures…
First Sentence: Life came back slowly, Kate realized.
Review: About once a year I find a book that I want to buy for every woman I love…  Two years ago, this was The Help and last year Major Pettigrew's Last Stand found its way into many stockings.  This year, I think Joy for Beginners will be my pick.  I delighted in Bauermeister's lyrical, luminous, palpable prose and had flagged so many passages after only the first section.  The characterization is exceptional as well, but the writing is truly exquisite.
As the plot synopsis states above, the narration revolves around a group of friends who have each been assigned a challenge.  Each chapter focuses on one woman's journey to accomplish this challenge; however, since the friends' lives are intertwined, familiar faces surface throughout each narrative.  Each character's voice is authentic, unique, and finely wrought, and initially I hated turning the last page of each section, knowing my time with that woman was drawing to a close.  But within a few paragraphs of the next section, I was enthralled again — so much so, that I intentionally slowed my reading of this work in order to savor each section.
I would be remiss if I did not include at least a few of the many passages I flagged.  So, here is a taste of what I loved:
On empty nest syndrome: "Now, with Jack and Brad both gone, walking through her house was like driving the curves of a familiar but poorly maintained country road. She leaned into its rhythms naturally as she walked in the front door…"
On geography: "Marion was originally from the Midwest, a geographical inheritance that didn't so much cling as grow up through her.  Her face had the openness of cornfields and river bottoms, a calm belief in herself nourished by thick, green summer air, the feel of slow water moving beneath the hull of a canoe."
On finding the perfect home: "But to Hadley the house had been perfect, its main entrance a side one, hidden by an arbor drenched in climbing roses. Loneliness would look for a front door, Hadley thought, might not track her down the narrow bark-covered path, might get lost among the unruly green, the whispered distractions of sweet white scents."
On finding the perfect scent: "As she asked her clients about their lives, she watched them relax and become expansive, their initial responses like top notes, designed for quick inhalation, leading to more reflective insights under the warmth of her attention.  Ava learned to wait for the base note; it would tell her what she needed most to know. Usually it was something hidden — a sorrow, a joy, an anger or a desire to be kind. Beneath all the day-to-day maneuverings of a personality, the base note remained constant, a color upon which all the others rested but which was rarely acknowledged or perceived."
I loved this work so much that I'm afraid for once I am going to keep my copy!  However, the publisher has graciously offered to giveaway an additional copy!  So, if you are interested, please leave me a comment and I will choose a winner by the weekend!
Monday, June 6th:  Peeking Between the Pages
Tuesday, June 7th:  Raging Bibliomania
Wednesday, June 8th:  Books, Movies, and Chinese Food
Thursday, June 9th:  Jenny Loves to Read
Friday, June 10th:  Amusing Reviews
Monday, June 13th:  Book Club Classics!
Tuesday, June 14th:  2 Kids and Tired
Wednesday, June 15th:  Books and Movies
Thursday, June 16th:  Joyfully Retired
Friday, June 17th:  Redlady's Reading Room
Monday, June 20th:  Luxury Reading
Tuesday, June 21st:  Teresa's Reading Corner
Wednesday, June 22nd:  Rundpinne
Thursday, June 23rd:  Lit and Life
Friday, June 24th:  Lori's Reading Corner
Monday, June 27th:  The Brain Lair
Tuesday,June 28th:  Library of Clean Reads
Wednesday, June 29th:  Life in Review
Thursday, June 30th:  POOF.. books
Date TBD:  Bookish Ruth