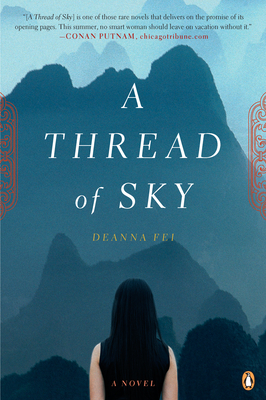 A Thread of Sky: A Novel
by Deanna Fei
Release date: 2010 / 351 pages
Synopsis (from the back cover): When her husband of thirty years is killed, Irene Shen and her three daughters are set adrift. In a desperate attempt to heal her fractured family, Irene plans a tour of mainland China, reuniting three generations of women — her fiercely independent daughters, her distant poet sister, and her formidable eighty-year-old mother…
First Sentence:  Irene entered the new millenium alone, watching TV, waiting for the ball to drop — an end, at last, to the buildup.
Review:  I found this novel immeasurably, heartbreakingly sad at times, but truly loved reading it and believe most book clubs would too.  The topics of mother-daughter relationships, cross-cultural identity, and the need to reconcile the past with the present are universal and resonate deeply.  On a personal note, I had the great privilege of travelling to China with my own family, so I also enjoyed the particulars of the physical journey, as well as the emotional and psychological journeys.
The perspective of the novel shifts between the mother, her three daughters, sister, and mother and each section is well-crafted.  I believe this shifting point of view is one reason why Sky is so successful and why it exacts such an emotional toll — the reader has access to each woman's intimate thoughts and motivations and can't help but empathize with each one and understand why conflicts are so quick to arise, yet so unnecessary.  The pain of knowing that these individuals who love each other deeply will never have the same access to each other's thoughts that the reader does is truly wrenching, but utterly authentic:
None of them knew how to talk to one another anymore. None of them knew how to admit sadness, or confusion, or hurt, or fear, because it felt like failure, like weakness. Maybe they never had known, not since they were children. Her father's death had ripped them open, and then they'd scabbed over, too fast, their wounds still fresh under a thick, warped cover.
Another reason why this novel works so well is Fei's prose.  She seemlessly creates six distinct voices and spirits, reflects the ambivalence that is China — historically and today — and then deftly integrates the characters against the backdrop of their ancestral home.  Here are two passages that exemplify her gift with language:
She held herself like so, sure and cool as a sheet of ice, while he coursed through the spaces beneath, between, inside her; while she began to believe in theri subsistence, in living a life of tonights; while the end of the year closed in and the start of the next loomed, impossible and inevitable; until the little yellow house proved a battered farce of a world, like an internment camp, like a bomb shelter; until the moment it collapsed.

Sooner or later, you need structure.  You have a life to build. You can build it around another person, children, a career, your art; you can pick a guiding principle — resistance, ease, duty, pleasure, mobility, permanence. There is love, the usual scaffolding. By the time it corrodes, the building is standing. Some use love like that and varnish it, bolster it, prop it up. Some use love like that and let it rot, then start again.
So, I strongly recommend this novel to book clubs — and any reader (especially women).  Interested in winning a free copy? Drop me a comment below and I will choose a lucky winner by the weekend!
Tuesday, March 29th: Amy's Creative Side
Wednesday, March 30th: Write Meg
Thursday, March 31st: Chick With Books
Monday, April 4th: Rundpinne
Tuesday, April 5th: Chocolate & Croissants
Wednesday, April 6th: Bloggin' 'Bout Books
Thursday, April 7th: English Major's Junk Food
Monday, April 11th: Hospitable Pursuits
Tuesday, April 12th: BookNAround
Wednesday, April 13th: Reading on a Rainy Day
Thursday, April 14th: Peeking Between the Pages
Wednesday, April 20th: Boarding in My Forties
Thursday, April 21st: Book Journey
Friday, April 22nd: Amused By Books
Tuesday, April 26th: Good Girl Gone Redneck
Wednesday, April 27th: Book Club Classics!
Thursday, April 28th: Books in the City
Friday, April 29th: Reading Through Life